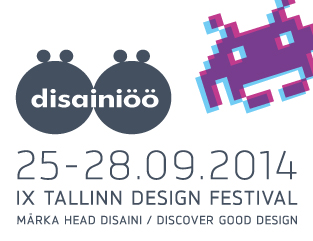 IX Tallinn Design Night festival, September 25-28, 2014

NOTICE GOOD DESIGN!
The times when the value of design was measured purely based on appearance and beauty are over. Contemporary design consists of integrated dynamic processes which give rise to functional, long-lasting, approachable and adjustable smart products which are comfortable to use, make our lives easier, create emotions and look great. In addition to this, improving our environment and existent services, creating new ones and combining them with products play an important role in creating well-being – this is what service design sets out to achieve.
In the ever-changing world, those who are innovative stand out – those who learn from their mistakes, who can turn the values created by design into business and export and integrate design with other disciplines. All this, in turn, helps to expand the economy and develop Estonian design culture.
IX Design Night festival which takes place on September 25-28, offers local design lovers yet another invigorating dose of international design and introduces good Estonian design. It is the year of design awards – the BRUNO product design award is given out and the best graphic designers, service designers and young designers are rewarded at the Estonian Design Awards gala. The award exhibition takes place in the NO99 theatre and the festive awards gala is held in the tent at Lilleküla football stadium.
The meatier part of the programme consists of a design seminar and workshops. This year, the international seminar Design Miss-takes concentrates on the mistakes, challenges and lessons learned. Among others, the accessories designer Elissa Bloom (USA), industrial designer Paolo Favoretto (Italy), design strategists Mikal Hallstrup (Denmark), Steinar Valade-Amland (Denmark), journalist Michael Dumiak (USA), designers Tania De Bruycker (Belgium) and Martin Pärn are giving presentations.
In order to be able to distinguish between good and bad design, we are organising a campaign where we collect examples of user-hostile design with possible solutions for improvement. Design students, professionals and everyone who wants to make the world a better place are welcome to take part. The results are displayed at the exhibition Design Miss-takes.
This year's festival programme includes several design education workshops and exhibitions. The younger design fans can visit the former Helios cinema where an exhibition of works from design schools is displayed. Young students can also take part of the festival – the launch and exhibition of the Estonian translation of the Polish Illustrated Design ABC Book takes place in the Estonian Children's Literature Centre, hosted by design teachers from Estonia and Poland. Furthermore, the children's product development project Real Design which starts in May, where carpets and lights are industrially manufactured based on the designs of year 7 students, will also take the form of an exhibition. Under the guidance of Björn Koop, youngsters can also learn visualization and modelling.
The Estonian Academy of Arts celebrates its 100th jubilee in 2014. The programme of Design Night festival reflects on the diverse creative endeavors of the textile department and other achievements of the Estonian Academy of Arts. The Designers' Face Book series continues.
As has become customary, the festival brings design from around the world to Estonia. Tales of Heroes is a non-traditional, conceptual Flemish design exhibition which introduces design objects through a unique display and simple stories. The exhibition remains open in the Design and Architecture Gallery until October. The young French designer Fabien Carrero Carsenat introduces his resin product collection with a Nordic touch. Tania De Bruycker's works oscillate on the border of industrial art and design. Finnish industrial artists and designers are planning to redesign the human-unfriendly environment at Lasnamäe as part of the urban art event Suur-Lasnamäe. In cooperation with Portuguese designers, the urban environment project kurvitz+banha is carried out. Furthermore, the results of the bus stop pavilion project Generation 2.0 in cooperation between Italian and Estonian students are displayed.
Several other traditional events are included in the programme such as the Pecha Kucha Night lightning talks with international speakers, a charity auction, lighting displays and of course fashion shows like Design Is In which introduces Reet Aus's new collection.
Year by year, the interest among creative professionals to take part in the festival as a satellite and organise mini events and presentations has been increasing. For several years in a row, designers, interior architects and manufacturers have been brought together at a mini fair. An overview exhibition of industrial textile design is displayed at the Estonian Museum of Applied Art and Design.
Design Night window and pop-up shop will be opened at Departement Store and an exhibition 12 Stools at LHV bank. Estonian Design House shares design information.
Design Night festival is organised by NPO Disainiöö in cooperation with the Estonian Association of Designers. Estonian Design Centre, several embassies and others are involved in the festival. The Cultural Endowment of Estonia and the city of Tallinn support the festival.
SOON NEW INFORMATION!
read more www.disainioo.ee